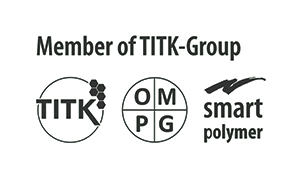 In smartpolymer, marketing and production activities of the TITK Group are concentrated. Research is done at TITK. The accredited testing laboratory OMPG focuses on testing services and develops new methods for this purpose.

smartpolymer make TITK's developments available on the market. smartpolymer market functional and structural polymeric materials and the products and procedures developed from them.

smartpolymer operate at several production sites for selected exclusive individual customers but also for a broader market.

smartpolymer's range of products comprises functional fibers of the Cell Solution® family and a number of specialties, e.g. flocked applicators for the cosmetics industry and medtech applications, cold and heat storage media, through embedding PCM materials. The customized adaptation or development of new additives, compounds and polymers and their production if needed is also offered.